During a holiday in Corfu island, no one can miss to taste the most famous Greek dishes and some traditional food of Kerkyra. Corfu cuisine is a nomitated healthy cuisine.
During all day and night the marvelous smell of food that fills the streets will take you for sure into a traditional restaurant, where you will discover an unforgettable Mediterranean cuisine. The Greek and Corfu's cuisine is dominated by local products as meat, fish, olive oil, vegetables and cheese that will surprise you day by day for their quality. In all Corfu island are very important some traditional products as local honey, extra virgin olive oil and sheep yoghurt, but also some local recipes like "Pastitsada" and "Sofrito" are really excellent. We also describe the most important traditional dishes and some local recipes.
Starters
The Greek cuisine has so many tastes and so many choices that you can really start and finish your meal only with starters! Some traditional starters are Melitzanosalada, Taramosalda and Tzatziki that are creams made of eggplants, egg fish and Tzatziki, the most famous, of yoghurt, garlic and cucumber.Avgolemono is a sauce used with meat and soup and the main ingredients are eggs and lemon.You can also taste many different small meatballs prepared with potatoes, courgettes, fish and spices, or fried mixed vegetables, or for who love new tastes we recommend stuffed octopus and Dolmadakia (wine lives filled with rice and minced meat). Finally we suggest you to try the Tyropithakia, a sort of salad pie filled with the traditional Feta cheese. There are also a couple of delicious starters which are traditional of Corfu island: Numbulo and Burduni. Numbulo is a particular ham that you can find only in Kerkyra island and it is prepared with smoked pork fillet. Burduni looks like a sausage, made with pork blood, livers, onions and spices, you will eat it fried and cut in small slices. It's not easy to find this starter in the restaurant. Other kinds of cold cuts that you can find in Corfu are the sausages, the bacon and the "salado" that is a salami not smoked.
Salads
You can always order a fresh salad as a starter or together with main dishes.
The famous Greek salad (Horiatiki) is prepared with tomatoes, cucumbers, onions, peppers, Feta cheese, black olives and olive oil.
You can also find many other kinds of salads made with potatoes, chicken, lettuce or beans.
Meat
Greek people love meat and in Corfu's restaurants you can find a lot of meat dishes.
Famous all over Greece, you can not miss to try the "Souvlakia" (meat sticks), the Stifado (veal cooked with onions and tomato sauce) and the delicious.Giouvetsi (lamb cooked into a large pot with rice). Traditional dishes prepared with minced meat are the Bifteki (big meat ball filled with cheese, onions and peppers and then grilled), the Mousakas (different layers of potatoes, eggplants and cream) and the Papoutsakia (eggplants cooked in oven and filled with cheese). Traditional dishes from Corfu that we would like to suggest you are Sofrito (veal cooked in wine sauce, garlic and white pepper), grilled lamb, turkey soup Avgolemono and Pastitsada (veal or chicken meat cooked with fresh tomatoes, cinnamon, wine, onions and different spices.
It is served with pasta or potatoes).
Fish
Come on, Corfu is an island, so… a lot of fish for any age and pocket! Together with the classic fresh fish that can be grilled or cooked in the oven and beside seafood there are some local recipes that are famous all around the island of Corfu. The Bourdeto is a sort of fish soup in a spicy sauce made with red pepper, onions, salt and extra virgin olive oil. Another fish course that we would like to suggest you is the Bianco that consists of different kinds of fish cooked with wine, lemon juice, garlic and vinegar. Finally the Savuri consists of fried fish served with a garlic sauce, rosemary, vinegar and raisin.
Vegetables
The vegetables are not only served together with main courses, but very often they are the main ingredient of special dishes. Some very famous and delicious dishes are the Imam eggplants (eggplants filled with onions, tomatoes and baked into the oven), the Briam (potatoes, eggplants, zucchini and tomatoes cooked in the oven), and stuffed tomatoes and peppers (they're filled with rice and tomatoes). Local people like also very much wild herbs like Tsigareli that are fried with garlic and pepper or Agriolachana that is boiled and served with olive oil and lemon.
Local cheese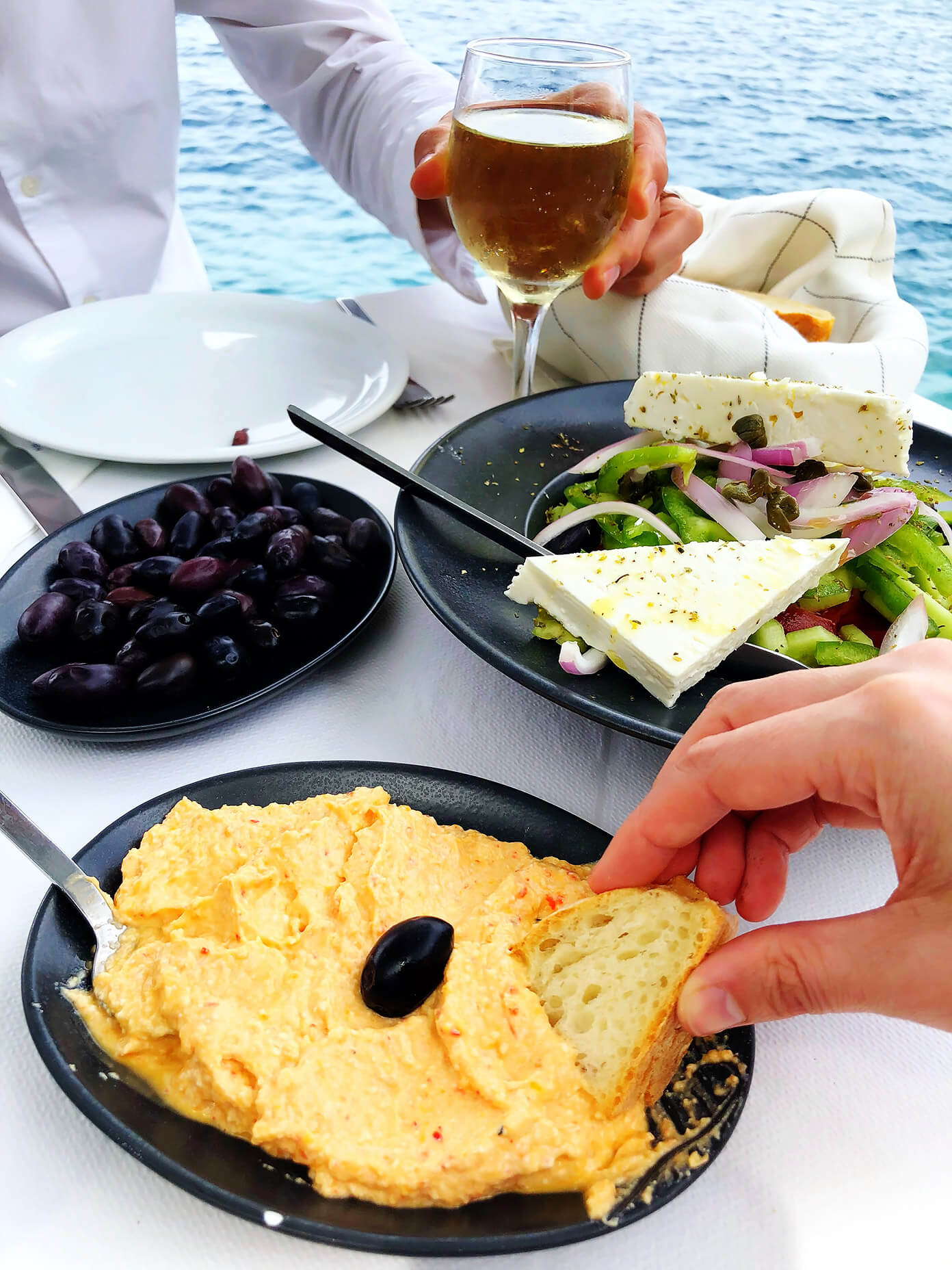 All over Greece there's a great production of cheese and in Corfu island you have the opportunity to taste most of them.
The most common cheeses that you can find in every restaurant are the Feta cheese (prepared of goat milk and with a hot spicy version), the Manuri (white and tasteful also made of goat milk), the Kefalotiri (a particular hard paste cheese that is ideal to be grated on top of spaghetti) and the two traditional cheese: Tirokafteri and Ladotiri.
The first one is a soft kind of cheese with pepper good to be smeared on the bread.
The second one is a hot spicy cheese that is also used for preparing some other dishes.
Snacks
If you don't want to seat down in a restaurant, you can taste many kinds of traditional pitas. The most famous one is called Tiropita, a sort of puff pastry filled with Feta cheese, but are delicious also other pitas filled with spinach, ham and cheese or minced meat.
Gyros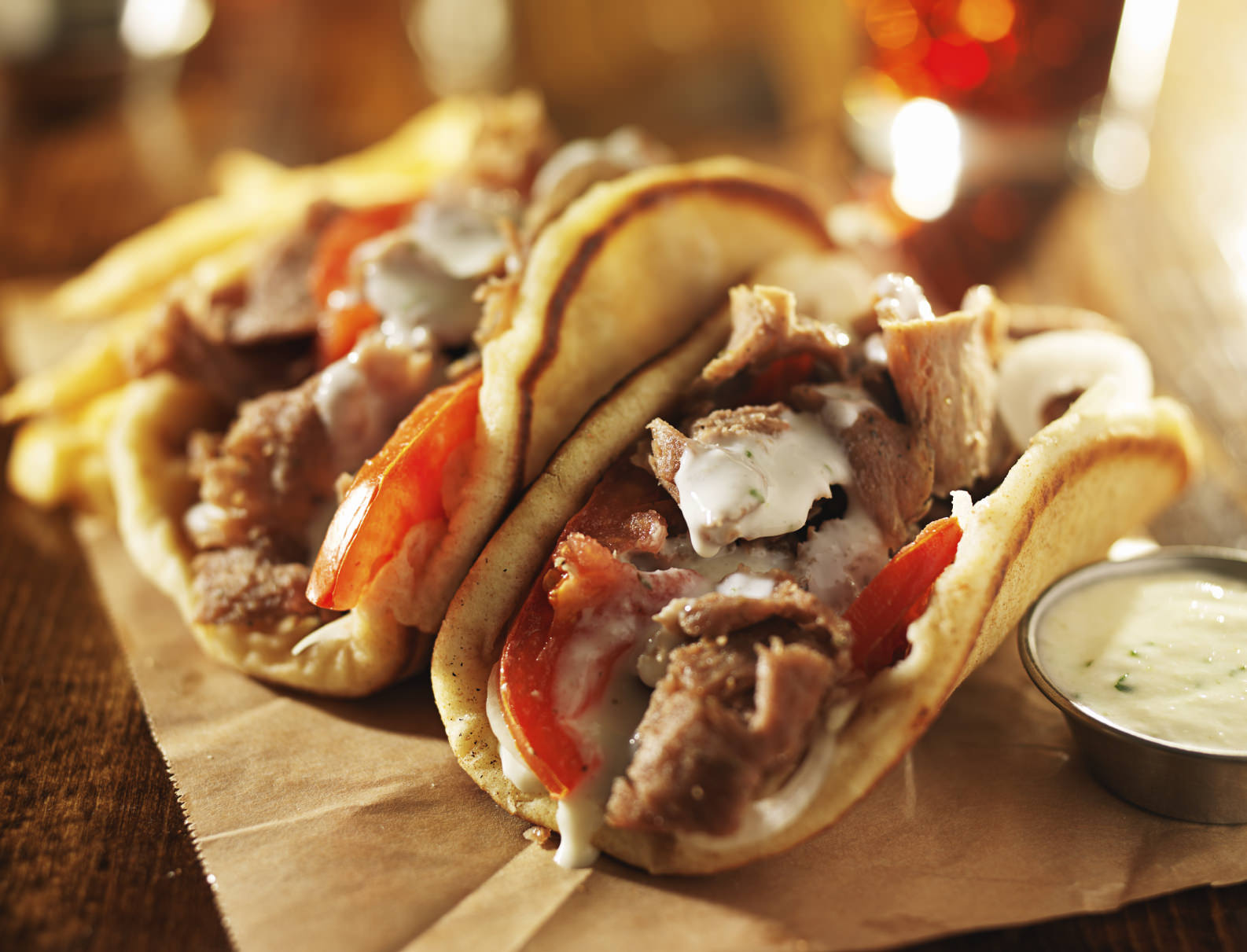 For those who still don't know it, the Pita Gyros is a strange kind of sandwich you can find everywhere in Greece!
The "pita gyros" consists of a pita filled with pork or lamb roasted meat, French fries, fresh tomatoes, onions and the Greek sauce called Tzatziki that is a great combination of yoghurt, cucumbers and garlic.
Cakes
If you give a look into a pastry shop here in Corfu island you realize that you can find everything you like with cream, chocolate or fruit. Anyhow if you're searching something traditional it will be easy to find it, just pay attention when you see a cake with nuts, almonds and cinnamon. The most famous are the Kataifi and the Baklavà. There's also a puff-paste covered with sugar and cinnamon and filled with a special cream named Bougatsa. If you come here in Corfu you have to taste the famous Sicomada, a kind of cake prepared with dried figs, almonds, orange skin, pepper, cinnamon, wine and Ouzo. Some other traditional sweets that you can find only in Corfu are the Tsaletia (kind of bread with raisin and corn that is fried and covered with sugar), the Fogatsa (kind of croissant) and the Tzintzola, made with dried jujubes, raisin and sesame.
Drinks, coffee and liqueurs
The best way to finish the meal is a Greek coffee. For people from Corfu is like a ritual to prepare it. You must drink it very slowly to allow the coffee to settle down in the bottom of the cup. You can order the Greek coffee bitter (pikros), sweet (metrio) or very sweet (glikò). The island of Corfu is also the only place in Europe together with Sicily where you can find the Kum Quat, a strange kind of tangerine. This little fruit was imported in 1850 by English and today is used to produce the most famous liqueur of Corfu, the Kum Quat. Another particular drink that is traditional from Corfu is the Tsitsibira that is very tasteful and fresh and is prepared with fresh lemon juice, lemon oil, water, sugar and ginger. Concerning wines, the production of Corfu was great during ancient time, but Venetian imposed the cultivation of olive trees and today there are very few areas where grapes grow up. The wines that are still produced in Corfu island are the Petrokoritho, the Fraula and the Skopelitiko that are red wines, while the Kakotrygis, the Martzavi, the Afioni and the Robola are white.
In Corfu the taverns are almost always open and the owners very friendly and nice in suggesting their menu or dish of the day. In many taverns it is possible to assist to local dances accompanied by Greek music such as Bouzouki or Sirtaki folk songs entertaining while waiting to be served.
The foods of Corfu are legendary to those familiar with the traditional fare there, but because food on the island varies significantly from the dishes served on the mainland, many people know little about this delicious island cuisine. Not only will the food there make your mouth water, it is also unique because it has been influenced by a variety of cultures. Therefore, Corfu's food is truly multicultural.With this primer, improve your understanding of cuisine from Corfu (also known as Kerkyra, pronounced KEHR-kee-rah). In Greek, the island is known as Κέρκυρα. And if you'll never visit Greece in person (or sincerely doubt that you will), try making the island's most notable dishes yourself.
How Corfu Is Similar to Mainland Greece
Because the geography of Corfu is similar to that of the rest of Greece, you'll find the same staples of mainland Greece on the island. This means that olives and olive oil, cheeses, fresh fruits, and vegetables are all basics on the menu. Yet, there is a greater emphasis on seafood, and the tastes and cooking methods are totally and delightfully Corfiot.
And given that the Mediterranean diet is known as one of the most healthful in the world, indulging in Corfu's food is likely to have a number of health benefits and may even prolong your life! You can call around to see if any Greek restaurants in your city serve Corfiot cuisine, but, if not, try making some of these traditional dishes from Corfu below. See for yourself what makes this island's food legendary.
Bourou-Bourou – Vegetable and Pasta Soup
Bourtheto – Scorpion Fish in a Spicy Sauce
Pastitsatha – Rooster with Pasta
Sofrito – Fried Beef in a White Wine Sauce
Sykomaïtha – Spiced Fig Cakes
Corfiot Cuisine
Corfu's cuisine is inextricably tied in with its history and this is what makes the food here so different from the rest of Greece. It is fascinating to look through a menu and try to deduce who brought what.
The four best known Corfiot dishes show their Venetian influence. These are Sofrito (sliced veal cooked with vinegar, garlic and parsley); Bourdeto (a peppery fish stew); Bianco, (a white, garlicky fish stew); and Pastitsada, (a pasta and meat dish).
Sometime after the 16th century, turkey arrived on Corfu, probably bought by the French since the Greek word, galopoula, translates literally as "French bird".
Puddings came to Corfu not with the Venetians but with the English in the 19th century.
(All these dishes were only enjoyed by Corfu's upper classes. Corfu's poor, however, had a very different diet which consisted of salt cod, wild greens cooked with onions and olive oil, and cornbread.)
Today many of Corfu's well known dishes are available all over the world, but they are best sampled here. The climate, atmosphere, food and drink seem to belong together and provide a unique experience whatever the meal.
Corfiot cuisine is neither spicy nor bland, but rich in the flavours of the Mediterranean. Specialties consist of local ingredients found on the island, especially olives, lemons, vegetables, tomatoes and fish. Many dishes hark back to the days when cooks put all the ingredients in a single pot and left it to simmer all day.
Lamb is traditionally the principal meat in Corfiot cooking. It can be found in dishes such as the classic Moussaka, or, cut into pieces, marinated in olive oil and lemon juice, it is grilled on skewers. Fresh oregano is commonly used with skewered lamb. Rosemary is traditional with leg of lamb, which is served with avgolemono sauce made with eggs and lemon. Other common Corfiot herbs are basil, parsley, mint, and dill. Garlic and onions are, of course, an integral part of Corfiot seasoning. Pork, beef, and game are marinated, grilled, and baked. Chicken is usually grilled or roasted.
Fish are traditionally cooked whole, with the head and tail still attached. They are often seasoned with herbs, and marinated in olive oil and lemon juice. Fish are grilled over hot fires, or baked. Shrimp, octopus, and squid are also popular.
Cheese is an important part of Corfiot cuisine. Feta cheese, made from goat's milk, is white, crumbly, and very pungent. It is used in salads, meat dishes, spread on bread, or even wrapped in grape leaves and grilled. Kefalotiri is another popular variety that is harder; it is grated and used like Parmesan.
Pasta is a favourite food in Corfu, particularly orzo, which has a distinct rice-grain shape. Thin pastry sheets, called filo, are used for appetizers like cheese or spinach pies and desserts such as the distinctive nut and pastry-layered baklava oozing with honey syrup.
Drinks are not all ouzo and retsina although these are popular with locals and tourists alike. Ouzo is a clear spirit made from vine stalks and flavoured with aniseed. Diluted with water it goes a milky colour. Sip with a plate of olives. Retsina is white wine flavoured with pine resin. Serve very chilled and if you find the resin flavour a little strong a drop of soda water turns it into a very refreshing spritzer. Greek wine has improved immeasurably in recent years and very palatable wines are now readily available. Most beer in Greece is of the lager style and is served very cold.